Surfside Beach, Texas    


Produces some of the better, more consistant surf on the upper Texas coast. It works on small swells and hold double overhead and better. Two factors are responsible for this fact: deep water and long jetties.Deep water is much closer here and south of here, only about 8 miles offshore, compared to 35 miles at Galveston. The deeper water allows the swell to pass without decreasing wave size due to the drag of shallow water.The pier at Surfside has a quick, dumping second break. The waves are short but have some snap to them.The Surfside jetties block the South winds, focus the swell, and create defined surf breaks. The best surf is usually a 1/2 mile+ or so north of the jetty, at such spots as "The Gone", or "The OctaGone" formerley theoctagon house (it was actually a truncated icosahedron or Fuller styleGeodesic dome)"Texas Street", or the "Blue House".
Under a strong S/SW wind, the jetty blocks sideshore wind, while allowing the swell to wrap cleanly to the beach. A strong NE/E/SE wind creates overhead surf, but the onshore wind creates choppy conditions. The 500 yard paddle out can be a killer. Check the surf closer to the jettyin this case. Could be that a quick, however somewhat dangerous, "jetty jump" is called for. If the wind is really howling out of the NE/E and the buoys are over 12 feet, look for the protected channel between the jettiesto start breaking. This was a "secret spot" a long time ago, but now gets super crowded when it's on. We have surfed double-overhead sets in the channel at least once most years! Fickle but nice when its on.
The Quintana side, to the south, is usually smaller and mushy between the jetties and the fishing pier. This place a a very gradual sand/clay bottom. It can hold protected surf on a strong NE-E wind, when Surfside is totally blown out. Outside of the Quintana jetty is a mysto-break. On a huge east swell waves come out of the ship channel and hit the underwater channel wall and jetty dredgings and really dumps. The result is a large, hollow bowl. Dangerous, hard to get out to and a scary line up but any time its double overhead this could be the best wave on the northern Gulf coast.
North of Surfside are places like Boilers, Assholes and few other good bars. South of Quintana are the Bryan's beach, Brazos river mouth, Sargents Beach and more minor river mouth breaks before you get to Matagorda.Surfside is not the perfect break; it can also get really crowded with several hundred in the water on a well publicized swell.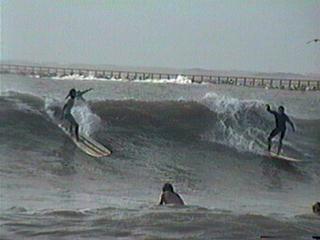 ---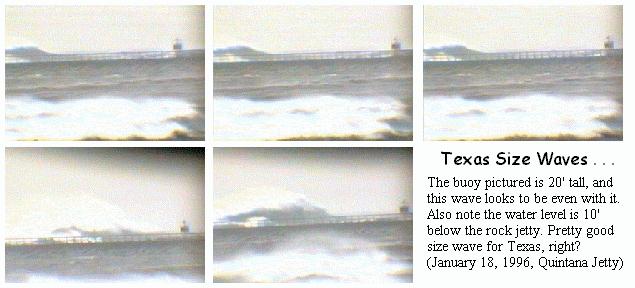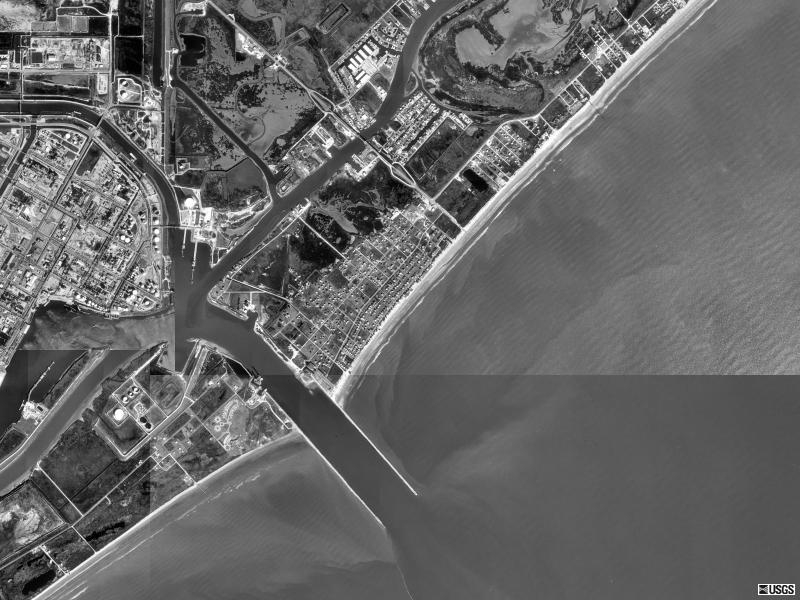 ---
Index  |  Galveston  |  Surfside  |  Matagorda  |  Corpus Christi  |  Padre Island