Welcome. Here's some other surfing related sites.
Texas Surf TV and links and links and vids.
Surfrider foundation for Texas upper coast, the original chapter in Texas.
Texas Surf Museum in Corpus Christi
Texas Tubes Third Coast page
Surfer Magazine Online
Magic Seaweed Pictures, forecasts and stuff
Surfrider Central- austin chapter
Ocean Surf - formerly high tide page

Surf for life. Surf for fun.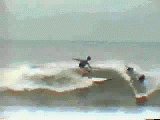 Forget the clothes. Forget the "pro's".
Catch one.
---
Rev 5.2: By the Doc.